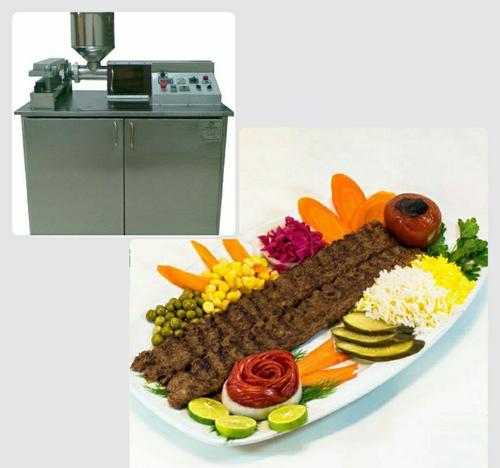 Automatic Kebab Skewer Machine
Product Code : 05
Product Description
Our company has gained immense reputation in the market as a reliable manufacturer, exporter and supplier of finest array of Automatic Kebab Skewer Machine. We manufacture the machine using superior grade stainless steel and other requisite parts. It is fitted with control panel for pre-setting of temperature and other technical necessities in baking delicious kebabs. Automatic Kebab Skewer Machine is known for energy efficiency, superlative finishing, long lasting attributes and impeccable quality. Buyers are most welcome with their inquiries.
Features:

Compliance with technical specifications
Superlative quality
Advanced control system
Automatic operation
Automatic kebab skewer machine Model : PS600H a production of Pooya sanat company is an innovation for preparing roast meat.

Specification and advantage of kebab skewer machine model PS600H

Skewer meat without manual task increases customer's trust and satisfaction by following healthy principles.
Device has designed for every simple user.
Applicable in different dimension and weights.
Steady roasting meat as a result of better cook.
Applicable in tow manual and automatic.
It is equipped with automatic counter and emergency switch
Machine cover and parts related to the meat is made of stainless steel.

Technical specification of device Model : PS600H

Motor power : 3 HP - single phase - 2.2 kw
Italian jacks.
Hydrolic system
Equipped with modular pressure breaker
Applicable in fitting meat weight
Dimensions : length 105 cm, width 70 cm, height 110 cm
Weight : 270 kg
Number of spiting : 1000 spit in hour
Mould (dimension and roast meat weight) is registered
Contact Us
Rajaii Street, Yazd, Yazd, 8918913475, Iran
Phone :98-353-6272292