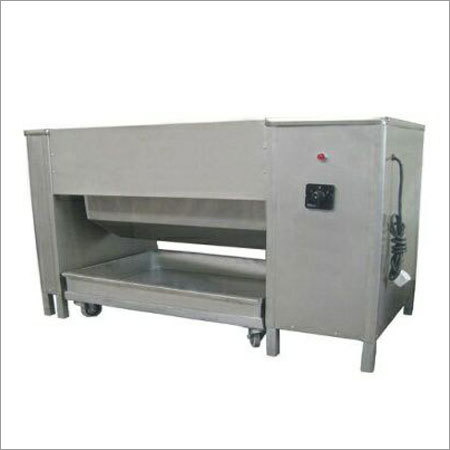 Spit Washer Machine Screw
Product Code : 22
Product Description
Owing to our consistent focus on providing high quality products, we have emerged as a trusted manufacturer, exporter and supplier of finest array of Spit Washer Machine Screw. This is fabricated using optimum grade stainless steel, components and parts for ascertaining flawless finishing, impeccable quality, high technical performance and long lasting attributes. Restaurants and big hotels commission Spit Washer Machine Screw for washing and cleaning purposes. We welcome inquiries from our customers and assure them of the best market deals.
Features:

Superlative quality
Fine finishing
Impeccable design
Energy efficient
Spit Washer Machine Model screw:
This machine is used to washing kebab spits without manual task.
Specifications and advantages of full-steel triple layer skewer washing machine Model Screw:
To observe the principles of health and full washing of skewers without remaining any spot or fat.
The method of washing is rotary.
Set output : to wash 400 skewers in 10 minutes.
It dose not require any skilled worker.
It save water and washing timer.
After fully washing the skewers,the machine shall be automatically turn off.
As it is triple layers,it has the lowest acoustic pollution.
Technical specification of full-steel triple layer skewer washing machine model Screw:
Motor power : 1 HP - Single Phase - 220V- 50HZ
Machine dimension: length 120 cm,width 60 cm and height 85 cm.
All parts are made of stainless steel.
Machine cover is made stainless steel sheet.
The engine power is transferred bye gear box.
It has water vacation hose.
It is equipped with timer and conductor.
Contact Us
Rajaii Street, Yazd, Yazd, 8918913475, Iran
Phone :98-353-6272292