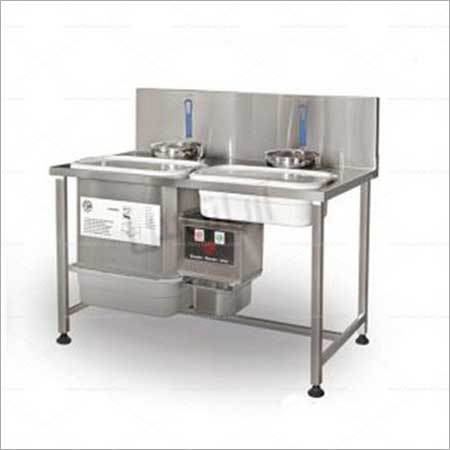 Wrapping Power Table
Product Code : 09
Product Description
Wrapping Power Table (Breading Machine) is manufactured in two models:
Automatic and manual
Fast food centers that serve fried chicken, Kentucky, fried mushroom, fried fish and shrimp require an equipped wrapping power table.
The wrapping power table machine has 2 plastic pellets and 2 stainless steel buckets, with a stainless steel grille. Besides the machine, there is a sift that is used for sifting Kentucky flour. This machine is used to sift automatically a mix of Kentucky flour and spice. The benefits of wrapping power table is reducing the consumption of breadcrumbs, increasing discipline and enhancing the speed of work. Breading machine is one of Kentucky's most used equipment and machines, and is also used all around the world, especially for restaurants. This machine is manufactured for cooking chicken and is equipped with a brush that spits spices and powder and sifts the extra flour. The machine automatically flushes the breadcrumbs, which also saves the flour and it also increases the quality of the machine. The features of this device include higher output quality than the traditional method, spice mixing, and flour sifting and also electrical power.
Contact Us
Rajaii Street, Yazd, Yazd, 8918913475, Iran
Phone :98-353-6272292